I'm such a chicken.
I have a new
pattern
, for a cute little coupon holder/organizer.
I have the perfect fabric for it. Gorgeous, bright and cheerful (like me! LOL!).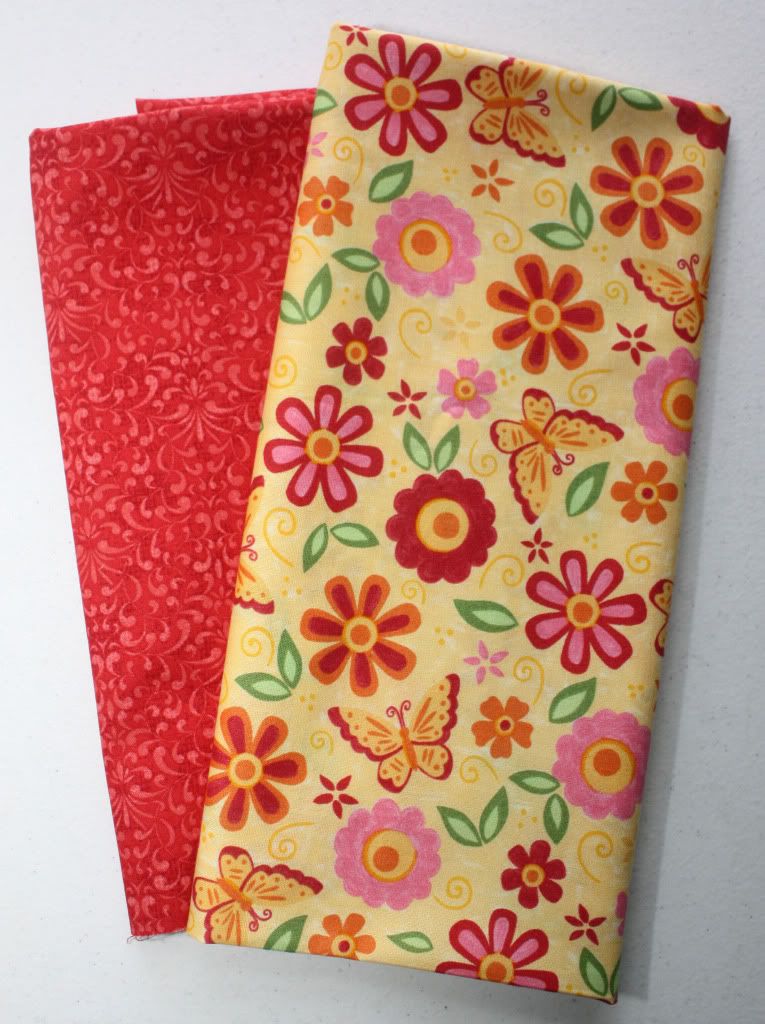 I have my sewing machine all set up and ready to go.
And I'm too afraid to make the first cut. Seriously. I'm afraid of cutting the material, making a mistake and feeling like a loser. Sigh...It's really not that big of a deal. It's only fabric for crying out loud and I'm not normally so wishy washy. I'm a take charge, feet first, think later kind of gal.
So, why is this fabric scaring me so much?
I need to just do it. Get out the pattern, grab my scissors and make that first cut. Then it will be started and I'll have no choice but to finish it. Right? Right. That's on my list for today. Mind you, it's been on my list since I picked up the fabric on Saturday, but there you have it. I'm going to do it today. You all need to keep me accountable. Demand photo's from me tomorrow of my progress. Threaten to beat me with wet noodles if I don't provide them. Something, anything to force me to get over this and get the organizer done. Ok? Ok.
Now that we're agreed on that, lets move on, shall we?
It's been a tough week with the kids. DS has had his braces for a full week now, and his mouth is one big sore. Cankers everywhere. The poor kid still can barely eat, although he says he does feel somewhat better. I think his mouth is starting to form calluses, which is great. Soon, hopefully, he'll be able to eat and speak properly. (I swear, you can only make out about every third word right now. )
DD is healing wonderfully. I was pretty sure she would, she's a tough kid. She had her wisdom teeth out Thursday and she's healed enough now that she could even leave the house if she wanted to. The swelling is down and she didn't bruise a bit. Not even a bit of discolouration. Nothing. She looks as beautiful now as she did before she went in.
But, since everyone is still a bit sore, I'm cooking soft foods all week. Tonight is Inside Out Ravioli's. I did mention this recipe last week, but I never did get the recipe posted. So, finally, here it is!
Inside Out Ravioli's
1 lb ground beef
1/2 cup chopped onion
Garlic salt to taste
10 package spinach
1 quart spaghetti sauce
1/2 tsp salt
2 cups small shells cooked and drained
1/2 cup cheddar cheese
1/2 cup parmesan cheese
1/2 cup bread crumbs
2 well beaten eggs
1/4 cup oil
Brown beef, onion and garlic salt. Add salt and simmer. Cook spinach, drain. Combine spinach, shells, cheeses, bread crumbs, eggs and oil in a seperate bowl.
Spread above mixture in a 9x12x2" pan. Top with sauce. Bake at 350 for 30 minutes. Let stand 10 minutes before serving.
I like to serve this with homemade bread in the winter. It makes a nice, filling and comforting meal. For the summer, a nice light salad is a great choice for a side dish. However you decide to make it though, be prepared to add it to your permanent list of recipes. It will become a family favourite in no time!
Enjoy!